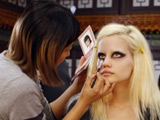 The seventh episode opens with the remaining girls in the limo wondering what their best photo would have been if the challenge had focused on them individually rather than in groups of three. Sundai interviews that hearing she had done well and Nicole and Erin had brought her down was the best critique she could have hoped for.
Nicole interviews that the last panel had been tough for her and she realises that she needs to show the judges that she has personality in time for next panel.
The first Tyramail of the episode arrives asking 'How driven are you? We'll find out tomorrow'. The girls arrive at Wilhelmina Models and are met by Wilhelmina's president Sean Patterson. Sean tells the girls that they will spend a day in the life of a real model, going out on go-sees and meeting potential clients, including an advertising agency looking to cast a commercial.
Petite model Lauren Shiohama explains that they will be split into pairs for the challenge and must drive themselves. Each pair is given a map, a car, a list of five go-sees and strict instructions to be back at Wilhelmina by 4pm. The teams are Jennifer and Erin, Brittany and Kara, Sundai and Rae, and Nicole and Laura.
Laura interviews that she is scared to drive in LA traffic especially since she's not driving her own car and it actually matters if she puts dents and scratches in it. Rae's caution on the road leads Sundai to liken her to "an 80-year-old woman". Erin is nervous about go-sees as she isn't good around new people.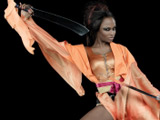 Sundai and Rae decide to try to fit in an extra go-see and are the only pair not to make it back to Wilhelmina's by 4pm. Sean Patterson impresses on them the importance of good timekeeping in the modelling industry and both are automatically disqualified from the challenge.
Sean gives the girls their critiques. Jennifer's feedback suggests she wear less make-up, Laura is fresh faced but has little range for a commercial, Brittany is criticised for coming across as robotic, Kara is told she is a little scruffy but has a strong walk, Nicole lacks energy in front of the camera, and Erin is timid. Nicole is declared the winner and receives items from each of the go-see designers and a role in a national television commercial.
Back at the house, Erin suggests that maybe Nicole only won because the judges wanted her to but Nicole states that she earned it. Sundai and Kara impersonate Nicole doing a commercial with a lifeless voice and interview that they do not understand why she won.
The second Tyramail arrives and reads 'Float like a butterfly, pose like me. The competition's getting so fierce... Y'all could use a secret weapon'. The girls arrive at a martial arts studio and are met by Mr Jay. They will be creating a composite photo by posing with martial arts weapons on the ground and up on a wire. The girls each choose a weapon and are given basic training in handling it before the shoot.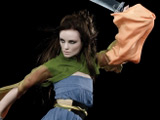 Jay praises Nicole, saying that although "Nicole had a down week last week she's on the top of her game this week". Jennifer, Laura and Erin also excel in their photoshoots. Jay feels that Kara hasn't absorbed the training meaning her movements aren't graceful and her shoot is weak. Brittany's performance on the wire is similarly uncoordinated but the resulting pictures are 'beautiful'. Jay interviews that Rae has trouble projecting her inner light on to film and that Sundai's performance is "abysmal".
At judging, Tyra, Miss J and Nigel are joined by supermodel Jessica White. The panel praise Jennifer, Erin, Brittany, Laura and Nicole, although Nicole is advised she needs to come across stronger in person. Rae lacks dynamism but photographs well, Kara is told she looks uncomfortable and the shoot looks confused. Sundai is criticised for repeating the same poses.
Nicole's name is called out first. The call out order for the rest of the girls is: Laura, Brittany, Erin, Jennifer and Rae. Sundai and Kara are in the bottom two.
Tyra explains that each week Kara appears less and less invested in the competition and that she is lost and doesn't know how to be found. The judges see Sundai as the underdog and her pictures are 'stuck' in a three-quarter face whereas a model needs to be versatile. Kara is eliminated.
"I just feel really disappointed in myself" she sobs, "I hope that I'm still able to get into modelling but right now obviously it doesn't feel like such a viable option. What was the point of coming into this competition if I was just going to go home in the middle of it - if I wasn't going to win? I left Costa Rica and bought plane tickets to try out for this. If I didn't want it I wouldn't have come."
> Click here to read our interview with Kara