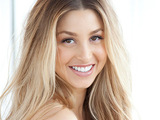 Whitney Port
has said that she is not secretly friends with Olivia Palermo, her rival on
The City
.
The reality TV star told
Metro
that while some parts of the show are exaggerated by editors, "nothing is scripted" on the
Hills
spinoff.
Regarding her relationship with Palermo, she said: "I honestly don't get along with her. I don't fight with her on a daily basis and we're not in each other's lives all the time but Olivia and I aren't the best of friends.
"She was in a position to help me with my clothing line but she went out of her way not to help and said some not nice things. She's in her own world and doesn't want other people to succeed.
"It is a little frustrating but you have to have that element to give drama to the show. In the New York fashion industry it's inevitable you meet those types of people whether you're in a TV show or not."
Asked who would win in a fight between the pair, Port added: "I'd win. I'm a lot taller and stronger. She's a little meek."
> 'The City' recap: 'Fashion With A Capital F'