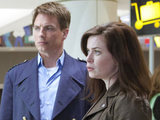 Starz CEO Chris Albrecht has revealed that
Torchwood
may not be picked up for another season.
Albrecht told reporters at the TV Critics tour that the sci-fi drama's future is dependant on the schedule of series creator Russell T. Davies.
"
Torchwood
is not one of the shows we went into thinking about a yearly return," he explained. "It's about Russell T. Davies [because] he has a lot of things on his plate. If
Torchwood
is at the top of his list, that will effect the future of
Torchwood
."
Davies is currently
developing a new drama series named Cucumber
with Showtime, it was announced last month.
However, the showrunner previously told
Digital Spy
that he was
having second thoughts about leaving Torchwood
.
"I say [I'll quit] at the beginning of every year and then I get to the end [of the series] and I love it again," he explained. "So I don't know. It is time that I moved on and did something else, but we'll just see how well [
Torchwood: Miracle Day
] does."
Torchwood: Miracle Day
continues on Fridays at 9/8c on Starz in the US and on Thursdays at 9pm on BBC One in the UK.
> John Barrowman talks Torchwood: Miracle Day: 'We delve into Jack's past'
> Torchwood: Miracle Day Mekhi Phifer interview: 'Rex is a lot of fun to play'
> Torchwood: Miracle Day Jane Espenson interview: 'Writing Welsh voices was a joy'
> Torchwood: Miracle Day Bill Pullman interview: 'Oswald can redeem himself'
Watch Russell T. Davies and Julie Gardner discuss
Torchwood: Miracle Day
with
Digital Spy
below: