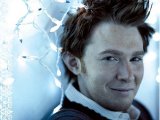 Successful
American Idol
finalist Clay Aiken has revealed he considered quitting music because of the constant pressure from being in the spotlight.
The singer told
WENN
: "Just this past week, some friends of mine and I were back home for a show and people had been camping at my mum's house. We had to put the sheriff there to make sure they weren't pulling grass out of the yard.
"My security person wasn't getting in until later on in the evening, so I sat in the hotel room all night Friday, while all my friends went out and did their thing.
"That was one time when I thought, 'You know what? If I just quit all this stuff, then people wouldn't care anymore and I wouldn't have to sit home by myself.'"
Aiken is about to release his second record, a collection of Christmas songs.