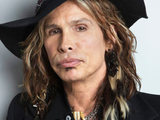 Steven Tyler swore during this week's live
American Idol
performance show.
The rocker had been critiquing
Casey Abrams
's rendition of 'Harder To Breathe' by Maroon 5 during Wednesday's songs from the 21st century night when he dropped the f-bomb, although it was caught by the censor.
"There are millions of people in America that are really angry because you piss them off because you are f**king good," he told Abrams.
After the show, one Twitter user questioned host Ryan Seacrest about which word Tyler was censored for, to which he replied: "It rhymes with 'duck'."
Tyler was later seen sitting at the judges' table with a piece of duct tape across his mouth. "We had to silence him just for a second," joked Randy Jackson, although Tyler then removed the tape, saying: "You can't keep me quiet!"
American Idol
continues tonight at 8/7c on Fox, when another contestant will be sent home.
Katy Perry will also take to the stage to perform her single 'E.T.'
, while season seven winner
David Cook will premiere his new track 'The Last Goodbye'
.
More from American Idol:
> American Idol recap: Top 7 perform
> Poll: American Idol - Who should go home?
> Bruce Springsteen visits American Idol contestants