0
Reality TV News
Colton Dixon: 'I'm sad to leave my American Idol friends'
Colton Dixon
has commented that he was very sad to be voted off
American Idol
The Tennessee-born singer was
eliminated from American Idol
last week after earning mixed reviews for his covers of Lady GaGa's 'Bad Romance' and Earth Wind & Fire's 'September'.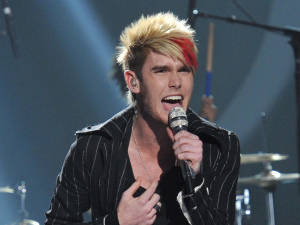 Dixon appeared on
Access Hollywood Live
on Monday (April 23) and revealed that he was most upset to be leaving his friends behind.
"We're all tight. I hated to leave all of them, but what's so cool is whenever I started singing, Phillip [Phillips] actually bowed his head and was praying over me and my career and that gave me chills whenever he told me that," the 20-year-old said.
The star added of his friendship with Phillips: "I got a chance to pray with him before I left, I'm so excited for what he's gonna do on the show."
Dixon also reiterated that he "absolutely" plans to release a Christian rock LP in the future.
Earlier this week, the 20-year-old admitted that
he was very frustrated about how he was portrayed on American Idol
.
American Idol
continues Wednesday at 8/7c on Fox.
> American Idol's Colton Dixon on singing Lady GaGa, Christianity, more
> American Idol's Colton Dixon: 'I get why fans hated Lady GaGa song'
Watch Colton Dixon perform 'Bad Romance' below: